About us
Taurus Amplification
Taurus products are designed and hand crafted in our facility based out of Sopot, Poland.
For the past 35 years, it's been our philosophy to provide you with the best fully professional musical gear.
Adam Kozakiewicz, founder of Taurus Amplification, musician, sound and electronic engineer is spreading his passion and dedication to music and technology on all of us.
Our passion, supported by the newest technology, best electronic components, hand crafted manufacturing and quality control process guarantees superior quality and complete satisfaction.
The final shape and sound of Taurus products are predetermined by musician needs, not by the market's economical determinants.
Taurus history
The first Taurus amplifiers were designed and manufactured by Adam Kozakiewicz in the late 70's.In that time Adam has been a guitarist and song writer in "Jeep". The "Jeep" band played on Adam's amps and sound systems throughout their career.
December 28th, 1983 Adam officially registered the company named "Box Electronics". For over 20 years the company had been manufacturing a wide range of pro audio products. All the time guitar and bass amps remained the biggest passion of Adam and his working team. It drove them to design the whole new series of amps. The name "Taurus" has reappeared. All the new Taurus products are tested in real stage-like environment by various musicians and brand specialists.
That's how the slogan "Taurus is made by musicians for musicians" was created.
Archive of the amplifiers manufactured in 1983-2004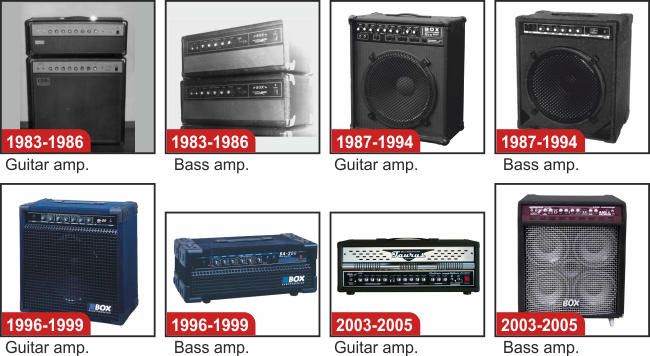 At the beginning of the new century, all the energy was directed towards designing and achieving an uncompromised bass amp. Between 2004- 2009 new ideas and product improvement occurred for Taurus. This resulted in the creation of bass amplifiers which have a unique design and exceptional sound. To complement this line of amplifiers, a complete range of floor pedal effects were introduced and has been awarded by the Bass Gear Magazine "BEST OF SHOW" at Musikmesse 2009 in Frankfurt.
In 2011 a complete new and unique series of Taurus guitar amps called Stomp-Head was added to the Taurus product family.
Taurus, made by musicians for musicians, is constantly evolving.
We invite you to stay tuned and visit our Taurus website, Facebook, YouTube for new releases, latest photos, videos, news, products and events.