London Bass Guitar Show 2011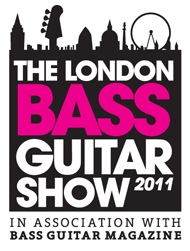 March 12-13 for the very first time Taurus took part in London Bass Guitar Show 2011. This was first and the biggest show of this kind in UK.
This two days long bassist's carnival consisted of two parts: gigs&lectures and a trade. Both parts were open for audience all the time, so between the concerts, the musicians had possibility to get acquainted with the new products dedicated for the bass players.
On the stage you could watch the masters: TM Stevens, Marco Mendoza, Mark King, Gary Willis and more.
The atmosphere on the show was very loud and enthusiastic. You could feel the positive energy, everyone were keen on sharing bass knowledge and experience. Discussing with musitians, it turned out that many of them are surprised with such a big spectrum of gear they hadn't known before.
It was a great
Taurus Amps was one of the exhibitors at the trade. The visitors found their offer very attractive. One of them was Otto Williams, the bass musician, who work with the artists such as: Amy Winehouse, Sia Furler, Ray Charles, Bobby Brown, Chaka Khan and Michal Urbaniak.
His ear of proffessional appreciated the sound of Taurus. He told us that he loves the beautiful sound of bass amps, but he doesn't like when it is innatural. He can do much with his fingers! He says that Taurus emphasises his playing style with no exaggeration (distortion? Too much colour?)
Otto has also tested the Silver Line of Taurus effect pedals. He enjoyed them very much. Most of them he liked TUX (Compressor-Limiter) TT Signature and he picked the one for himself. Since now, he is one of the Taurus Players. Welcome!
Very flattering for us is the fact that, if one musicians has ability to try out the products of many leading producers of all over the world and domes back to finally pick Taurus to be his gear. Very motivating. We hope for the next edition of London Bass Guitar Show to be also so successful.